Taking Christmas orders
24 September 2017
Taking orders for Christmas turkeys in October whilst continuing to accept regular daily orders would ordinarily require some exceptional organisational skills, however, delivery slots in FoodCommerce does all this for you. All you need to do is set them up and then relax and leave your online shop to it.
Nearer the time, you use product summary reports to tell you exactly how many turkeys in each weight range you need from your turkey supplier. Just make sure the orders are locked so the customers cannot make changes or cancel them.
If you still want to continue taking orders first let the overnight process lock the orders you already have so they are firmed up. Then reduce the preparation leadtime in the delivery slot(s) so the delivery slots are available again in your store front.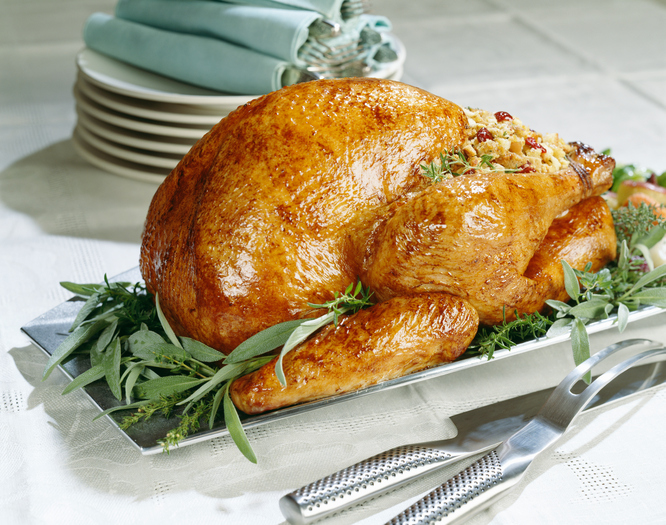 ---
Getting your Online Shop ready for Christmas
Create Christmas delivery schemes - you do this so you can make Christmas delivery dates available in your online shop now, and so some products, like turkeys, can only be delivered on these dates.
If you already have Christmas delivery schemes from last year then simply re-use them again this year. If not this is what you need to do:
Create your new scheme(s) of the desired type (not "home" or "simple").
Leave "days in advance to generate slots" set at 0.
Un-check "defaultly available on all products" unless you intend to offer everything in your online shop for Christmas delivery.
If your normal delivery schemes have "extra info" then you will need to add similar extra info to your new Christmas scheme. Copy the "key" exactly and copy and modify the "value" as appropriate.
Add delivery slots to your Christmas delivery schemes - do this in "manual slot creation". Once you have created a slot you will be able to see and modify it in "live slots". Use leadtimes to manage your last day to order.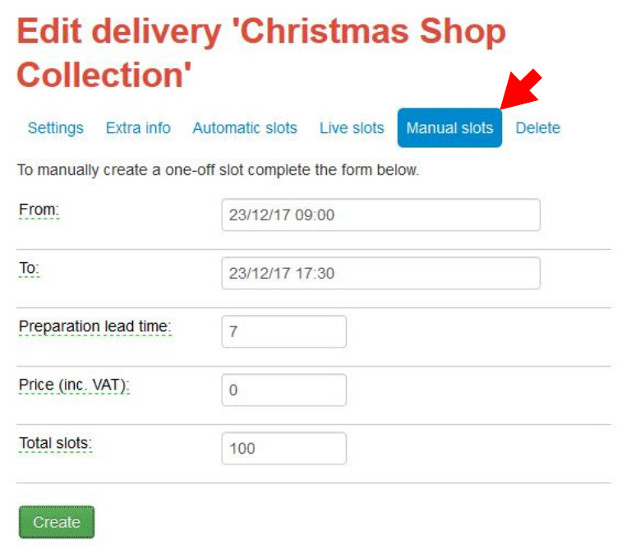 Add non-delivery dates for the holiday period - you don't want your normal delivery schemes to automatically create inappropriate delivery slots that either conflict with your Christmas delivery slots or are on a day that you are closed. Add non-delivery days against "all schemes" for the days you do not deliver at all, like Christmas and Boxing Day. Add non-delivery days against your normal schemes for the days where you have a Christmas delivery.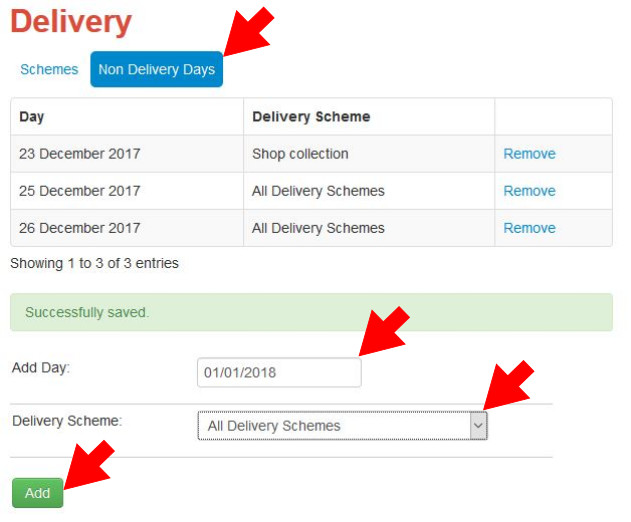 Make Christmas products available for Christmas delivery - in the "availability" tab against each "Christmas" product mark the Christmas delivery schemes as permitted and all the other schemes as not-permitted. For existing products you want available for Christmas delivery mark the Christmas delivery schemes as permitted. The "from" and "to" dates should be left blank.
Once you have finished check the delivery page in your shop to make sure it looks and reads as you intended. If things are in the wrong order change it by using the "list order" against the delivery schemes.
Use the simple stock counter - ideal for Christmas turkeys when you have a limited quantity to sell.
To use this feature simply set "limited availability" as "limited" on the product "availability" tab and then adjust the stock amount. Every time an order is placed the stock will decrement until there is none left, at which point the product will automatically be flagged as "out of stock".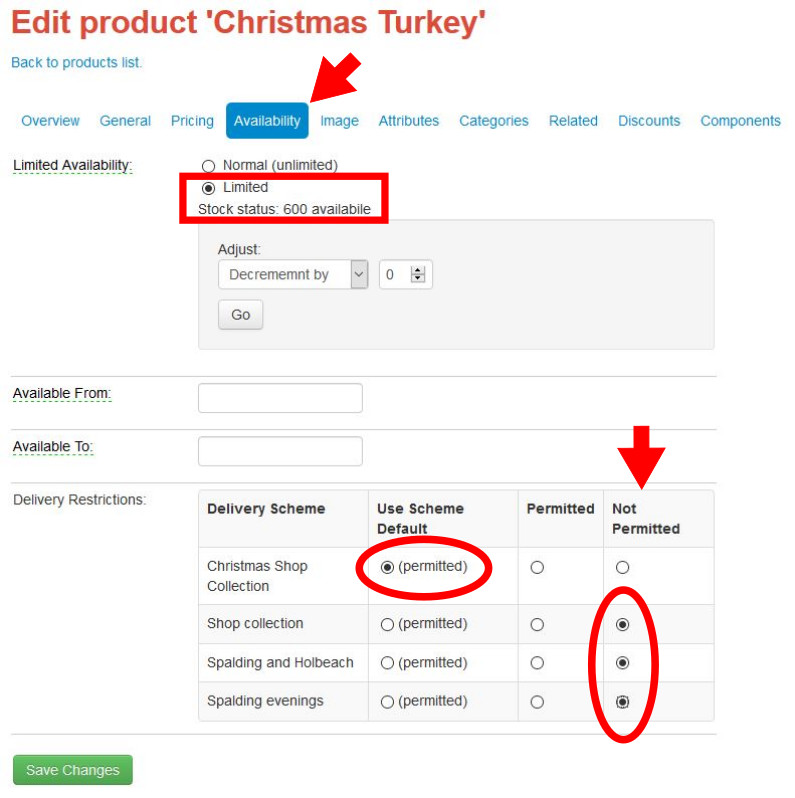 Have a very good online Christmas!
---